The convenience of having the mats delivered to your stall aisle upon your arrival and picked up as you leave makes this experience with Rent a Stall Mat Company hassle free!
Look at the many benefits that prove "Rented Stall Mats = The Competitive Edge". Mats Matter!
Our new MatsPLUS+ service provides your horse with a new level of protection and makes your stall ready to use. This allows you to unload as soon as possible. Our goal is to be the "one stop shop" for preparing you and your horse for each show. Learn more.

After installing your stall mats, we will:

disinfect the stall and surrounding areas with Santi-T-10
bed down the stall with shavings you have ordered through Hay and Feed

MatsPLUS+ service can be added when you place your online order.
EHV-1 Update

Our stall mats have been and will continue to be disinfected thoroughly after each use with Sani-T-10, a Broad-Spectrum Disinfectant registered with the EPA as a bactericide, fungicide and virucide specifically addressing the Herpes Simplex virus.
| Why have these? | When You Can Have This...! |
| --- | --- |
| | |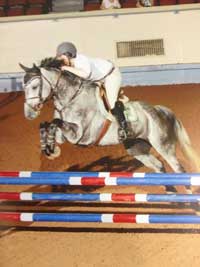 Customer Testimonial
I love using Rent A Stall Mat. It is so convenient and gives me the peace of mind of having one less thing to haul and unload at the shows. As a trainer I know my horses will be comfortable and their legs can rest being on mats instead of concrete. It's also a peace of mind on the safety side of things. I don't worry about slipping or rubs. We use them at every show they are available!
Amanda Eggleston
Takeoff Farm, Purcell, OK
Turn for Twister Benefit
Thank you so much for helping us with the Turn for Twister Benefit. We cleared just under $29,000!! God certainly blessed this event and showered us with His grace. We started with nothing except a vision, a will and God's mercy. Thank you for making it possible!! 100% of the proceeds will be used for the victums in need. Again, we greatly appreciate your genorosity!"
Lisa Lawson, Cross Cut Cowboy Church